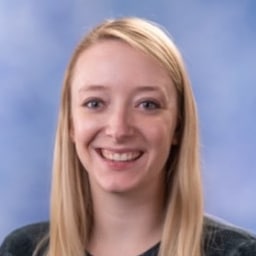 Katie Schramm, Au.D.
2023-2024 Michigan Audiology Coalition President
Another year has flown by with many twists and turns for the MAC. We persevered through the global pandemic and arrived at a "new normal." We want to thank each and every one of our members of the MAC board and committees for their continued dedication and efforts. This year our focus will be on continued progress and reconnection. We will work diligently on legislative initiatives, work to increase membership efforts and expand benefits for both professional and student members, and introduce new and exciting involvement opportunities at the annual MAC conference in October. We are excited for the ever-changing opportunities waiting for the MAC and Michigan audiologists this upcoming year.
For those of you that do not know, the legislative climate in Lansing has taken a turn this year. We continue to work closely with our hired lobbyist, Bob DeVries, to adjust for this change and prepare for an aggressive agenda to represent Michigan audiologists at the state level. We are spearheading the state effort to propose a universal cytomegalovirus (CMV) screening bill and continue to assist lawmakers in understanding hearing healthcare. We encourage members to participate in the second annual MAC Advocacy Day, prior to the MAC Conference, to meet with state representatives and take an active role in advocating for our profession. In addition, we are very excited to have Bob as the keynote speaker at the upcoming MAC conference to further discuss our legislative efforts. For any questions or comments on our legislative efforts, please reach out to the committee directly at legislation@michiganaudiologycoalition.org.
While our activism continues to be a main focus for our organization, members are our top priority. We completed a successful membership drive to expand the number of contributing audiologists to our organization's efforts this past March. Our many committees continue to work tirelessly to create new and exciting opportunities within the MAC. We will begin listing local externship opportunities and encourage our student members to use the MAC as a resource when planning for their 4th year. Our annual MAC conference has an exciting list of extraordinary speakers and for the first time will be offering a poster session. We have also introduced a new fundraising committee to explore new avenues for MAC membership connection and to increase financial stability for our organization as we continue to represent the interests of audiologists throughout the state.
As always, the coalition implores you to consider going one step further to volunteer your skills, talents, and passions on a MAC committee. If there is anything you would like to see from the MAC, please join us today to make it happen. The coalition encourages volunteer nominations! If you're aware of a MAC member who may be well-positioned on a committee or as a board member, then please submit a nomination for such member. For a full listing of our current committees please visit the 'About' section of our website. We look forward to working with you in the years to come! Thank you for your continued support of the Michigan Audiology Coalition!
Katie Schramm, Au.D.
2023-2024 Michigan Audiology Coalition President